ENRIQUE UMPIERRE-SCHUCK, MD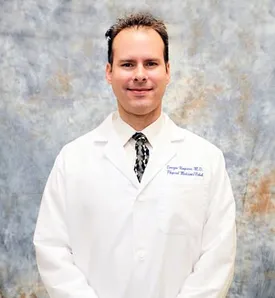 Dr. Umpierre was born and raised in Puerto Rico. He attended the University of Puerto Rico, Rio Piedras Campus, where he received his Bachelor of Science Degree in Biology with Magna Cum Laude in 1992.
After receipt of his Bachelor's degree he received his Medical Degree with high honors from University of Puerto Rico, Medical Sciences Campus, in 1996.
He continued his education in the United States, with training at MetroHealth Medical Center in Cleveland, Ohio, where he completed his residency in Physical Medicine and Rehabilitation . He went on and completed a fellowship in Spine/Musculoskeletal Medicine at LSU Medical Center, in New Orleans, Louisiana. He is board certified in Physiatry and Pain Medicine .
His main goal is to provide better quality of life and function with the least amount of limitations.
Dr. Umpierre has received the following honors and awards:
BBB National Honor Biological Society, Golden Key National Honor Society, Alpha Omega Alpha, National Dean's List, National Collegiate Medical Sciences Award and Medical School Honor Roll.

He also published a review article on Ilipsoas bursitis, ITB friction syndrome and Achilles tendinopathy- published March 2001, Curr Op Rheum (Co-author).

He is a member of the Florida Hospital, Florida Medical Association, American Academy of Pain Management and American Academy of PM&R.